Annual Thanksgiving Shopping Spree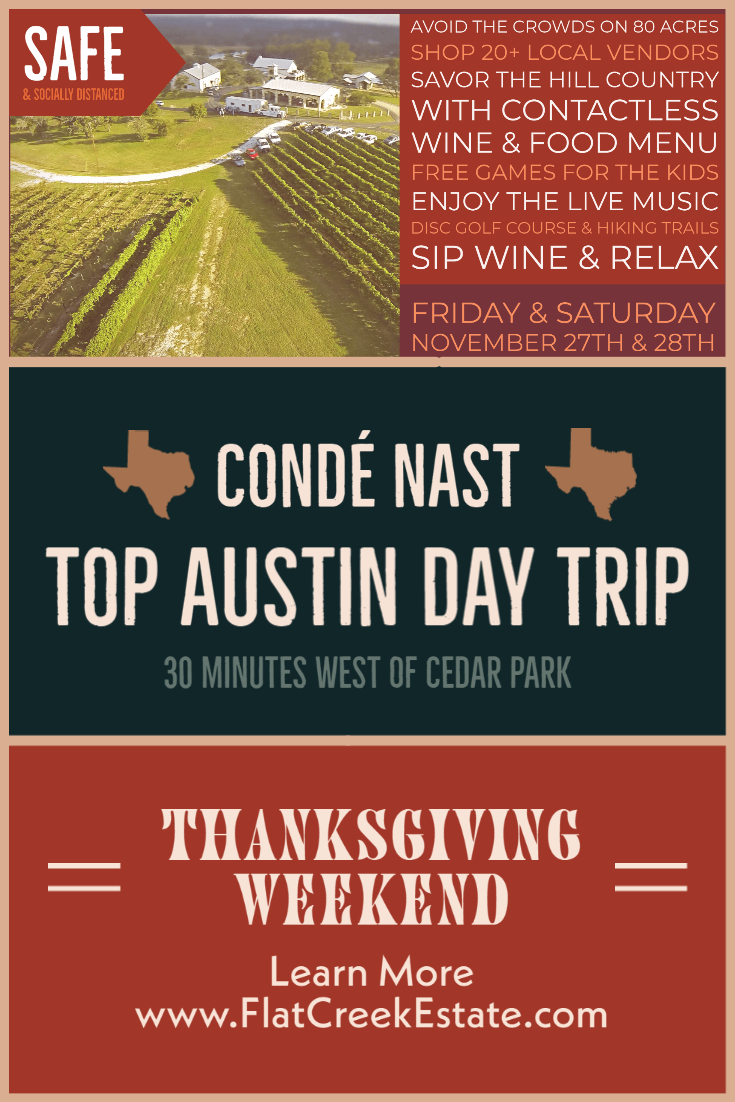 Durée: 2 Heures (environ)
Lieu: Marble Falls, Texas
Code produit: SHOPPINGSPREE
Join Us for Our 15th Annual Thanksgiving Shopping Spree Extravaganza!
Friday, November 27 & Saturday, November 28

Wine Tasting & Shopping from 11AM - 6PM
Live Music from Noon - 6PM
1. SOCIAL DISTANCING & SAFETY PROTOCOLS ENFORCED
We are pleased to offer a safe and fun activity for the entire family on our 80-acre vineyard estate. To help keep everyone safe, the following rules will be enforced.
• Guests Will Wear a FACE MASK Anytime They Are Not Seated at a Table or Playing Disc Golf
• Guests Will Maintain 6 Ft Social Distancing From Other Guests
• Guests Will Use Hand Sanitizer Upon Entering Buildings
• Guests Will Not Move Tables or Chairs
• Employees Will Wear a FACE MASK, Follow Sanitation Protocols & Pass a Temperature Check
2. CASUAL OUTDOOR OPTIONS - COUNTER SERVICE
WINE BY THE GLASS - PRE-ORDER YOUR "WINE PASS" TO SAVE MONEY!
As we continue to follow the Governor's recommendation to prevent congregating at bars, we will not have tasting tables this year. Instead, we will offer Wine By The Glass in pre-filled wine glasses with lids. This will allow our staff to pre-fill the glasses with sanitized and gloved hands to limit contact during service hours. We highly encourage you to pre-purchase your Wine By The Glass "Wine Pass" here online for a great contactless purchase option! By the Glass Options Include Dry White Pinot Grigio, Dry Rosé, Dry Red Dolcetto, Dry Red Montepulciano, Semi-Sweet White Moscato Blanco.
~~~~
Wine Pass Pre-Order $8 / Day Of $10 - Includes One Glass of Wine in Keepsake Glass
Wine & Cheese Pass Pre-Order $25 / Day Of $30 - Includes Two Glasses of Wine, Meat & Cheese... ...All Packaged in 4 Keepsake Glasses!
~~~~
WINE BY THE BOTTLE OPTIONS

Our entire portfolio is available by the bottle! For wine by the bottle purchases, you will need to purchase a wine glass or bring your own from home. Our "wine passes" purchased here online include a commemorative wine glass filled with one of our featured wines...it's the best deal at $8 if you pre-order!. Other options include $5 Traditional Flat Creek Glass, $10 Silicon Glass, $25 Insulated Glass...or of course we'll have plastic cups to hand out for free!
~~~~
Contactless By The Bottle Ordering Also Available Online!
~~~~
FOOD OPTIONS
We will have our famous wood-fired pizzas, chef's cheese & meat "cups" (served in commemorative wine glasses), and salads available for purchase at the outdoor counters or through contactless online ordering!

~~~~
Outdoor Dining Menu Coming Soon! - No Reservation Required
~~~~
*
*
*
3. FORMAL INDOOR OFFERINGS - FULL SERVICE
Our Wine & Food Hall will be accepting reservations. Please note that we only have 8 tables and therefore, reservations are extremely limited and a deposit will be required. Each seating will be 1.5 hours long. If we have a reservation following your seating (very likely), you will not be permitted to linger past your allotted reservation time. Please be on-time for your reservation for the best experience!
~~~~
Indoor Dining Menu Coming Soon! - Reservation Required
~~~~
*
*
*
4. VENDOR MAP COMING SOON

~
5. LIVE MUSIC LINE-UP COMING SOON
Friday, November 27th - TBD Noon - 3PM / TBD 3PM - 6PM
Saturday, November 28th - TBD Noon - 3PM / TBD 3PM - 6PM